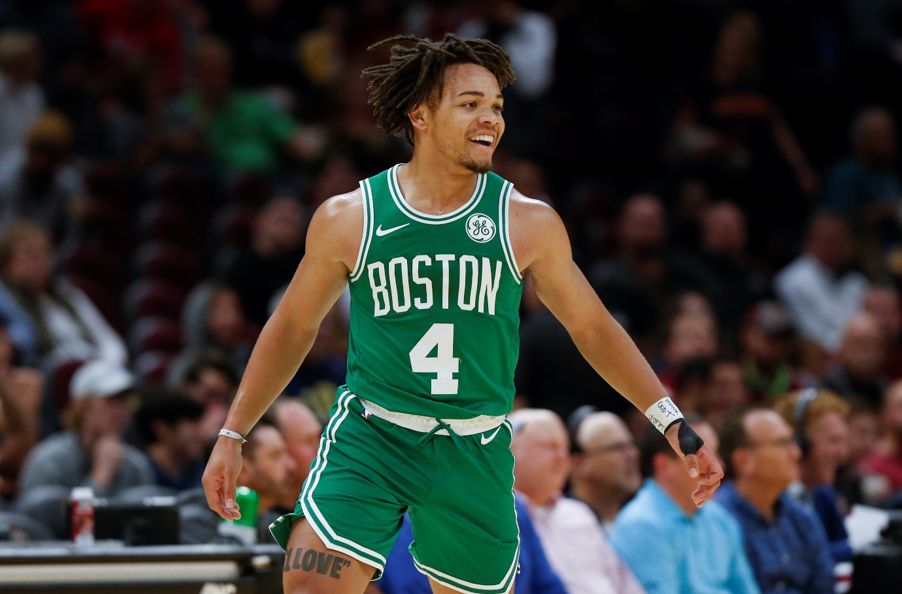 (Image courtesy of Boston Herald)
When people think basketball, they think of really tall and huge players, and rightly so. The height, to some, gives a better advantage and is partly a reason for the success of many players. However, a curveball can be thrown in. It's not always about the height in the NBA that defines success. A huge crop of short players has also made the charts. They are not over 6 feet tall but they have made their exploits felt on the court. Catch all the NBA action and watch these players play as you bet on them using these betting codes. So, who are these NBA shortest players to keep an eye on?
Carsen Edwards (5'11'')
Very few NBA would come at such a height but Carsen Edwards, is one of the prospects with Bolton Celtics. His career, however, has not been long enough with few games under his belt for the Celtics. But, his exploits came during the NCAA Championship when he led the Purdue Boilermakers with big scoring efforts.
Carsen remains a player who can take advantage of an opportunity should it arise and he is one to watch!
J. Augustin (5'11'')
D.J. Augustin is the complete opposite of Carsen Edwards with his NBA career going for over a decade. The current Milwaukee Bucks guard impressed as a rookie and despite his up and downs during the years in the NBA, he remains a 'dynamite' despite his height.
He has averaged double figures consistently over the years and he will be remembered for the game-winning shot against the Toronto Raptors in the playoffs.
J. Barea (5'10'')
For J.J. Barea, what he has achieved in the NBA has exceeded the expectations of many. The Dallas Mavericks man stands as one of the toughest players in the NBA and yet one of the grittiest. You can call on Barea any time for an impressive performance whenever the team needs him. Moreover, J.J. Barea adds the veteran aspect into the team and his experience stems from 2011 when he helped his team clinch the NBA Championship.
Chris Clemons (5'9'')
His first season at Houston Rockets didn't make a huge splash but his days at Campbell University are worth talking about. After being an undrafted rookie in 2019, he joined Houston Rockets and his NBA debut was a 129-100 loss against the Miami Heat where he scored 16 points. His contract was converted into a standard NBA contract later in the year after impressing. He remains a huge prospect for the Rockets.
Isaiah Thomas (5'9'')
He is currently the shortest NBA player and for Isaiah Thomas, it has been a fall from grace. He was the last draft pick in the 2011 NBA Draft going to Sacramento Kings. He would proceed to join several other franchises including Bolton Celtics where he made two All-Star game appearances with them. He has since had several unsuccessful stints at Cleveland Cavaliers, Los Angeles Lakers, Phoenix Suns, Washington Wizards, and Denver Nuggets. He is currently one of the NBA free agents.