2017-2018 NBA schedule was expected to get released on August 14, 2017 at 6 PM (ET). Last season, the schedule came out on August 11, 2016.
Rest Days Analysis
Take a look at our team-by-team
rest days breakdown
. Sort and filter teams', opponents' rest days as well as total back-to-back's.
UPDATES on 2017-2018 NBA SCHEDULE
We recommend you to bookmark this page, as we will post updates regarding the 2017-18 schedule.
Aug 15, 2017
| We have completed analyzing the new schedule. Here's the
breakdown of rest days
.
Aug 14, 2017
|2017-2018 NBA entire schedule is set to be unveiled on
August 14, 2017 at 6 PM (ET)
.
Aug 10, 2017
| NBA.com
unveiled the 17-18 schedule partially
: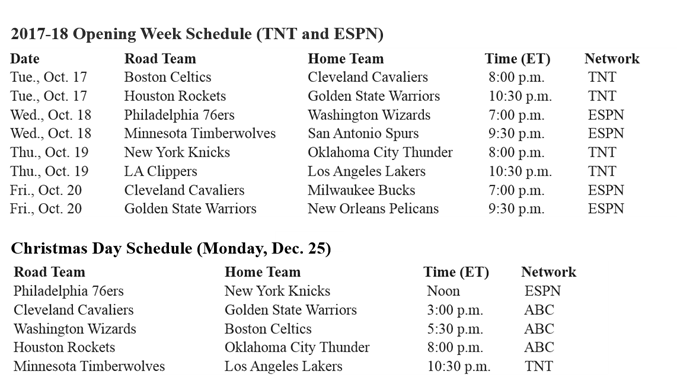 NBA is announcing tip-off week national TV games and Christmas Day schedule tonight at 6 p.m. ET on NBA TV.

— Jeff Zillgitt (@JeffZillgitt) August 10, 2017
There has been no announcement on release of NBA schedule but I'm hearing early next week, possibly Monday or Tuesday. https://t.co/ftDXgMQuYm

— Jeff Zillgitt (@JeffZillgitt) August 9, 2017
Aug 8, 2017
| According to
Brian Windhorst (ESPN)
, 2017-18 NBA schedule will come up with new features:
• Eliminating stretches of four games in five days and 18 games in 30 days.
• Reduction of five games in seven nights to just 40 instances across (1.3 per team), down from last year when it was on the schedule 90 times (three per team).
• Reduction in the number of back-to-backs to 14.9 per team, down from 16.3 per team. In all, 40 back-to-backs have been eliminated from last season.
• Reduction of single-game road trips by 17 percent.
• Reduction in single-game road trips over 2,000 miles by 67 percent; there are only 11 of them on schedule.
• Increase in weekend games from 549 to 568, much of the boost coming on Saturdays. Previously the NBA avoided Saturdays and Sunday afternoons during football season to dodge conflicts.
Adam Silver said NBA season will start Oct. 17 this season. That's about 10 days earlier than usual.

— K.C. Johnson (@KCJHoop) July 12, 2017
While waiting for the NBA 2017-18 schedule,

Have you you ever been curious about how the NBA schedules games? Making the NBA schedule, explained.
Check out previous seasons' NBA schedule analysis on NBAstuffer.
Access to historical schedules in Excel format dating back to 2006-07 season.