---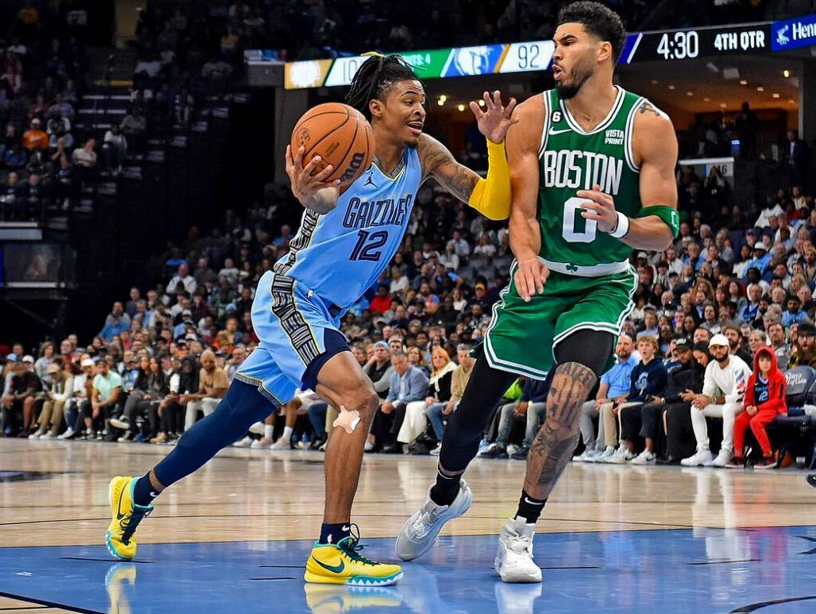 The Boston Celtics and Memphis Grizzlies have followed similar paths in 2022-23. Both jumped to the top of the pack in their respective conferences before hitting a bit of a speed bump near the halfway point of the season in mid-January. Each still sits near the top of their conference but the roads look difficult ahead. On January 18th, the Grizzlies took a 115-114 home game over the tough Cleveland Cavaliers and improved to 31-13, a mere half game back of the 32-13 Denver Nuggets for Western Conference supremacy. Superstar guard was lighting up the league on the way to an All-Star start, Desmond Bane was back and healthy and everything was rolling, until it stopped. Memphis set out on a grueling five-game road trip and dropped all five. All told they won just 7 of their last 20 games and now sit 7.5 games back of the Nuggets and tied for 2nd in the West with the Sacramento Kings. The Suns, now starring Kevin Durant, are just three back.
Of course, it gets much worse. Morant is currently out pending a league investigation into a series of troubling incidents dating back to last summer. There is no official timetable as to when he can return. Dillon Brooks, averaging 14.4 Points per game,  recently had to sit a game after receiving his 16th technical foul, and that puts him on de facto probation. He will have to miss more games every other time he gets T-ed up. Excellent Sixth Man Brandon Clarke tore his achilles and will miss the rest of this season and possibly next season. Steven Adams, a solid center and at age 29 the elder statesman on a very young team has not played since January 22nd. Adams and Clarke have combined to average 17 rebounds and 1.8 blocks per game, so that is a ton of interior presence that the Grizzlies have to replace. Fortunately, Adams should get back on the court soon.
None of it will matter without Morant. The human highlight reel leads the Grizzlies with 27.1 PPG to go with 8.2 assists and 1.1 steals per game. He has even chipped in 6 RPG. Advanced stats love him too as his real plus minus of 5.31 is good for 19th in the league and his Player Efficiency Rating (PER) of 23.91 is 14th best. The only thing close to a hole in Morant's game is that he has not developed into a great shooter. His 31.6% 3P% sits well below league average and his 55.5% True Shooting% is middling.
The Grizzlies' other All-Star, Jaren Jackson Jr, profiles more as a very strong second star with a great overall game. He averages 17 PPG, and 6.6 RPG and leads the league with 3.2 BPG. Jackson's RPM of 6.79 is 7th best in the league. To put that in perspective, the only guys better are Tatum, Embiid, LeBron, Jokic, Luka, and Damian Lillard. Virtually the entirety of his RPM is on the defensive end, with a DRPM of 6.06, but he is a threat with the ball in his hands with 60% TS% and a 34% mark from behind the arc.
Still, with Morant's status up in the air and Durant now starring in Phoenix, the Grizzlies' betting odds have dipped. Here are the NBA West favorites over at BetMGM.
Suns +210
Nuggets +325
Warriors +500
Clippers +700
Mavericks +900
Grizzlies +1000
Legalized online sports betting opens up in Massachusetts on March 10th. New customers in the Bay State can use the BetMGM Massachusetts Bonus Code to take advantage of their first bet offer worth up to $1000. Anyone registering by March 10th can alternatively opt for $200 in bonus bets.
The Celtics coincidentally peaked in the standings at about the same time as the Grizzlies, maxing out at 35-12 on January 21st. Since then they have played around a host of short-term injuries that have knocked virtually every key player out of the lineup at some point since then. All-Star Jaylen Brown sat three games with a facial fracture, Marcus Smart missed nearly a month, rim protector supreme Robert Williams missed time in January and is now down again with a hamstring strain. Al Horford and Malcolm Brogdon have been in and out of the lineup and even superstar Jayson Tatum has sat out a couple of games. It has all added up to a meh 11-9 stretch that has seen Boston cede the top spot in the conference to the red-hot Bucks and sit just a game ahead of the Sixers in the loss column. Still, BetMGM and all the other books treat this as short-term noise in a long regular season. The Celtics still top the betting boards to win the East.
Celtics +135
Sixers +550
Cavs +1400
Knicks +2500
Tatum has been arguably the best overall player in the league as he leads in RPM at 9.35 and Wins, which factors in RPM and possessions played, at 20.09. He has improved statistically year after year and is now up to a career-high 30.3 PPG and 8.9 RPG. Fellow all-star Jaylen Brown is on a similar trajectory and up top with 26.6 PPG and 7 RPG, numbers that have gotten even better since having to play with a protective mask since the All-Star game. As long as the two superstars remain healthy, the betting market has confidence everything else will fall into place as role players like Derrick White and Grant Williams have done a great job stepping into expanded roles when needed.
FiveThirtyEight has soured a bit on Boston however. Their model had the Celtics as league favorites until recently, but now it gives them a 15% shot to take the title, behind the Nuggets and Bucks who both sit at 22%. The Grizzlies are at 8%, though unclear how Morant's availability gets priced in. ESPN's BPI is similar to the Celtics with a 16.5% chance, but very down on the Grizzlies at 2.8%.