As a fan of the NBA, and also someone who considers themselves to be somewhat of an NBA historian. We need to talk about Joel Embiid and what he's done since he was drafted by the Philadelphia 76ers. 
It is remarkable to think that he was drafted back in 2014, so a casual 8 years ago. Of course, as everybody remembers, he missed his first two years with a broken foot. During these two years, Embiid has admitted to seriously considering retirement after his younger brother was tragically killed back in Embiids home in Africa.
Also during this two-year span, multiple reports came out that he was lazy, overweight, and didn't take his rehab seriously. 
Fast forward to now. He has led the Sixers to the playoffs every year he has had meaningful playing time, with this year being the 5th straight playoff appearance for Embiid and the Sixers. 
NBA odds from OddsJam project Embiid is a legitimate MVP candidate for the 2nd straight year. He probably would have won the MVP last year if he didn't hurt his knee in March and miss the next 3 weeks. This year, he probably has an even better MVP argument, but then again so do Nikola Jokic and Giannis. The purpose of this piece isn't to argue one MVP candidate over another but to instead appreciate the career and talent of Joel Embiid.
He led the NBA in scoring this season, the first time a center has accomplished that since Shaq did in the early 2000s. He is also now technically the most efficient scorer in NBA history, according to Basketball-Reference and points per 100 possessions.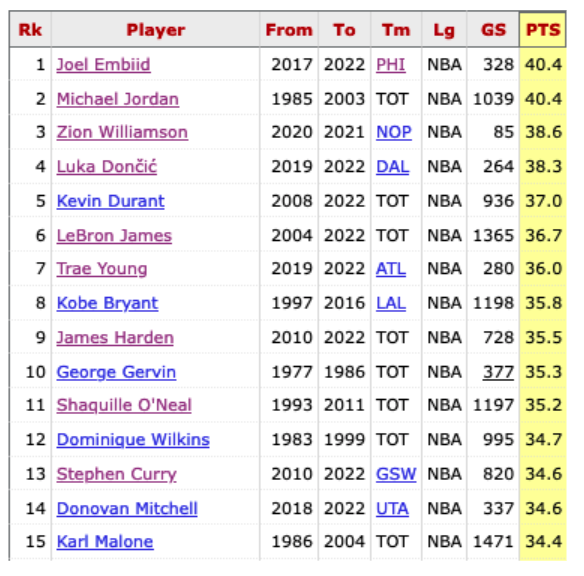 Of course, this isn't a perfect stat, and nobody is going to argue that Embiid is a better scorer than some of the names on that list. But, what Embiid is doing is historic. And it is even more impressive when you consider how his career started. 
I know I personally have been able to make some decent money betting on Embiid's NBA player props.