We Take Great Pride in Our Accuracy

Once you become a patron for only $5 per month, you get:
+ Game previews including previous matchup results, current odds, streaks, road-trips/homestands, rest days analysis, score predictions, position-by-position statistical comparison of starters.
+ 41-column DraftKings cheatsheet with DFS essentials plus FPTS projections. One-click export to Excel.
+ 41-column FanDuel cheatsheet with DFS essentials plus FPTS projections. One-click export to Excel.
+ Projection updates at least 2 times in a day to account for key injuries and trades.
+ Yesterday's results (projected and actual FPTS & projection errors).
+ Email support
SAMPLE NBA DFS CHEATSHEETFOR DRAFTKINGS and FANDUEL
FAQ
STEP 1) On this page https://www.nbastuffer.com/patron-dfs/ click the "Unlock with Patreon" button.
STEP 2)
* If you have already been a Patron of NBAstuffer: Each time for accessing to DFS cheatsheets at NBAstuffer, just make sure you're logged in to your Patreon.com account.
* If this is the first time: Once you land the Patreon website, complete the payment steps to become a Patron. You will need to signup for a free Patreon account or use your Facebook/Google account to sign in to Patreon.
STEP 3) You should see a screen asking for your approval to login to NBAstuffer with your Patreon account. Click ALLOW.
Here's how this approval page looks like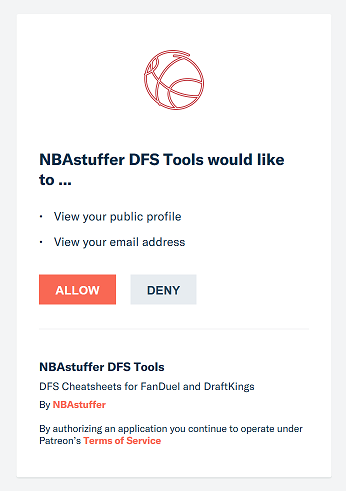 Now, our patron-only page should get unlocked for you.

If you still can't access after those steps, check out your monthly payments at Patreon. You are supposed to get charged on the first day of the month, so it's most likely there's a problem with the monthly payments which might be declined by your bank, by Patreon, etc.
If there are no technical issues, expect the cheatsheets updated at:
+ Early build: between 3:00 AM (ET) and 5:00 AM (ET),
+ First regular update: between 11 AM (ET) and 11:30 AM (ET),
+ Second regular update: between 4:00 PM (ET) and 5:00 PM (ET),
+ Additional updates (only if key injuries, major trades happen and if the impact is statistically significant.)

How To Make Use Of NBA DFS Cheatsheet?
We are trying to save you time by providing a deep NBA DFS research material on one simple page. Here's how to get the most out of the NBA DFS cheatsheet:

Target Games
Take a look at the game-previews table, which includes various team situations and player matchups. Consider taking the estimated game pace and Vegas over/under point totals into account, these might also be an indicator of DFS points scored/allowed as well.
Research Players
To build your
ideal DFS lineup
, use NBA DFS cheatsheet for
DraftKings
or
FanDuel
. Deep dive into players' numbers with sorting by the team, game-time, and position. Apply custom filters to the salaries, minutes, usage rates and FPTS where you determine a given range.
Optimize Lineup
As an independent
lineup optimizer
, we have developed DFSkey, which utilizes NBAstuffer's projections. DFSkey.com is currently in open-beta, so you can optimize your lineups for free. We welcome any feedback!
---
Try DFSkey Optimizer
Improve Your Excel Skills
Spreadsheet DFS School offers 6 hours of training videos to create your own data-driven Excel DFS tool.
Automate collecting data
and
generate lineups
to compete in any sports. Tons of sample Excel files and helper PDF documents provided too.
---
Learn More
RENEWALS: You are granted access until you
delete your pledge
at Patreon. Note that you will be charged at the beginning of the month. If you consider becoming a patron, you better not choose the last days of the month.
REFUNDS: We accept refund requests if you make a request in the first three days of the current month. Charges for past months are not refundable.